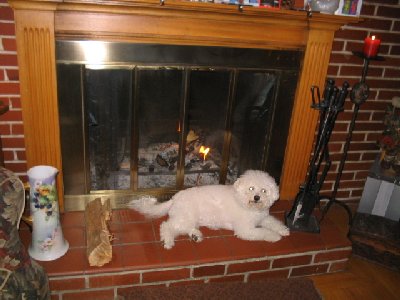 This image has been viewed 1 time since 01/01/2005.
| | |
| --- | --- |
| Breed: | Bichon Frise |
| Title: | Chloe of Seattle |
| Name: | Chloe |
| Born: | January 1999 |
| Home: | Seattle |
| Weight: | 15 |
| Posted: | 2004-01-08 |
| Image:&nbsp&nbsp | 5 of 53 |

Chloe is a princess. The world revolves around Chloe and she knows it. She loves to look pretty and likes to be combed. She enjoys lounging most of the day but is very quick to ward off anyone coming within several hundred feet of her home. She has a little sister named Saffy (a Malti-Poo) that can be a pest sometimes, but she loves her sis anyway. Chloe would rather be sitting on her dad's lap and will nudge his hand to be sure she is always being petted. Although she is a princess, she loves to go camping and hiking (she has climbed half way up Mt. Baker) and playing in snow, streams, and lakes. It's fun to get dirty but once the fun is over, it's time for a bath. She has many friends, but prefers to be held when company comes to visit. Chloe would rather be with her human friends than other smelly dogs!